Stay tuned and receive updates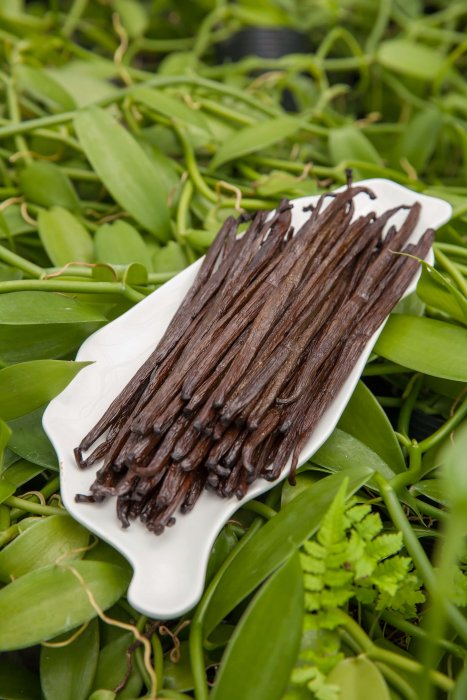 台灣香莢蘭於2007年由桃園農改場引進,我們於2012年開始種植,目前植株約3000株以上,目前已有穩定香草莢收成;香莢蘭因原產地的產量減少,價格逐年攀升,常年仰賴進口,價格也無奈的隨著國際市場波動,【香草騎士】希望藉由推廣【台灣在地香莢蘭】,讓更多農民投入這個新興市場,減少食物旅程,提高食材自給率,善待台灣每一塊土地。
Vanilla planifolia was first introduced by 「Taoyuan District Agricultural Research and Extension Station」to Taiwan in 2007. We started to cultivate Vanilla planifolia from 2012. Today, our crop of Vanilla pod is good and getting stable. We have more than 3000 Vanilla planifolia now. The price of Vanilla pod is getting increased in recent year due to the crop of Vanilla pod is reduced from its native region. In Taiwan, the source of Vanilla pod is relied on import, and its market price fluctuations is volatile. Vanilla Knight would like to promote our local Vanilla planifolia by the event " Vanilla planifolia in Taiwan" and also invite more local farmers to join this new market. We wish our local Vanilla planifolia can also help to reduce the greenhouse emissions and climate change by conserving fuel that it will cost to import food from another country. Support our local farmer, and utilise each of land in Taiwan in friendly way.
香草在早期,是只有貴族才能吃的到的頂級香料,到了現代,香草仍然珍貴,它僅次於番紅花,位居世界第二昂貴的香料!香草莢在經由六個月的發酵乾燥後,散發的香草醛氣味細膩高雅,帶有微微的甜香,又像奶油般溫潤。當香草籽運用在甜點中,就像女人佩戴上低調典雅的珠寶,既不會搶去主角風采,更能提升甜點整體風味,讓味蕾感受到的層次變得悠長而饒富。
In early days, Vanilla is a kind of spice that only available for nobles. Until today, Vanilla is still precious. It is the second-most expensive spice after saffron. After slow-drying and fermentation of Vanilla pod for six months, the aroma is just sweet and smooth like cream. Adding Vanilla into dessert, it will enhance all the other flavours in your dessert deeper and complex. Without it, your dessert will tend to taste bland and flat.
深深對香草莢風味著迷的味正琳師傅,耗費許多精神研究香草莢的歷史及運用,並透過桃園農改場取得技轉,開始種植香草莢植株「香莢蘭」,開啟了另一個身分「香草農夫」,並創立品牌「香草騎士」,味正琳師傅不只追求極致風味的甜點,更致力於台灣也能生產「頂級香草莢」的推廣,讓香草騎士成為"台灣唯一擁有香草園的甜點巧克力店"
Our Chef Wei is enthralled by Vanilla. He spent lots of time to do research of Vanilla, and get the techniques from 「Taoyuan District Agricultural Research and Extension Station」  to start to grow the Vanilla planifolia at his own farm. Not only as a chocolatier, Chef Wei is also a Vanilla farmer and develops his own brand " Vanilla Knight". Chef Wei not only loves to create the best dessert also devotes himself to promote the Vanilla cultivation in Taiwan. Vanilla Knight is the only one confectionery with its own Vanilla farm in Taiwan.